Do you like Cajun food? Hank Williams did and I do, too. Everyone does, I think. I remember promising I'd eat my way through New Orleans if I ever got there and sure enough, I did. Four days of non-stop gluttony.
Do you worry about making gumbo because of the roux? I don't, but it's only because I've done it a few dozen times. Ditto crawfish étoufée, especially when you consider the difficulty most of us have in obtaining decent crawfish tails except in huge, frozen lumps. Do you want to have something Cajun without contracting the heebie-jeebies over the roux, and using the skills you already have? Great, me too. Let's have some Jambalaya!
Jambalaya is, according to legend, a real melting pot - and that's just the name. Supposedly it's a contraction of the French word for ham, jambón (or the Spanish word, jamón), the French term for "in the style of", á la, and an African name for rice, "ya". Hence, jambalaya, or "ham in the style of rice".
There are other stories and I don't know which to believe, but the major point is this. Jambalaya, like many other dishes, is related to something else in technique. Just as a stew is a stew in construction whether it's made from beef, lamb, chicken or pork (cog au vin and boeuf bourguignon are essentially the same thing with different meats), a meat/poultry and rice dish is the same in terms of technique whether it's called jambalaya, paella or arroz con pollo - cousins all.
Jambalaya can be made from most anything including chicken, shrimp, ham, crawfish, alligator and duck, but we'll skip the more exotic ingredients here and concentrate on what's easily found. The one constant is sausage and I recommend you find a good brand of andouille, the highly-seasoned and smoked Cajun sausage (Bruce Aidell's is readily available), though any good smoked pork sausage such as Hillshire Farms' Polska Kielbasa is a reasonable substitute.
The base for jambalaya is, like many Cajun and Creole dishes, the "holy trinity" - equal parts of diced onion, celery and green bell pepper. This is the Louisiana version of the French mirepoix, which is onion, celery and carrot. The other critical item is good stock. Canned or boxed stock is okay, but it's so much better made fresh. I make stock all the time, freezing it in Best Foods (Hellman's) mayonnaise jars, and it's easy.
I won't go into detail on how to make stock when there are so many good sources on the Interwebz, but I'm partial to (gasp) Emeril Lagasse's recipes on his
website
. Chicken stock, which you're going to need for jambalaya, is especially simple to make and you'll be shocked how easy it is if you've never done it before. I do have a personal quirk. I like to poach a whole chicken as though making stock, then remove the meat from the bones to use later for chicken salad or enchiladas and return the bones to the pot to concentrate the flavors. That said, if you want to resort to Swanson's I won't turn you in to the food police, but it's a little salty, so be careful with your seasonings.
You're going to need a large dutch oven, preferably enameled cast iron. I'm using a 7-quart Martha Stewart (gasp again!) version here, mostly because it was about 1/3 the price of an equivalent Le Creuset, a fine if expensive product.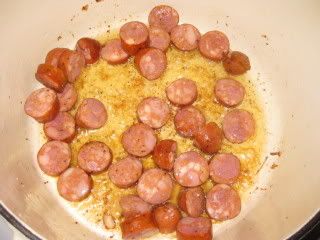 The first step is to brown some chicken pieces. I'm partial to thighs for this, but use what you like. Many recipes call for boneless breasts cut into bite-sized chunks, but aside from the fact that boneless and skinless breasts are boring, I'm not convinced the old-timers who concocted this dish knew a boneless-skinless breast of
chicken from a personal computer. Season them on both sides with salt and pepper and brown them over medium to medium-high heat in a little vegetable oil then set them aside.
This separate cooking is actually critical. You'd be surprised how much difference it makes.
The next step is to brown (lightly) the andouille and the ham, about a half pound each. Ham can be most anything. Tradition calls for Tasso, which is a highly-seasoned Cajun hame, but Hormel Cure 81 works really well. Or, if you like, you can eliminate the ham altogether.
Remove the sausage and/or ham from the pot and add the trinity over low heat and sweat (cook over very low heat) it until the vegetables are tender. Add 2-3 minced cloves of garlic and sweat that until it's fragrant, then add 1 cup of long-grain rice. Saute the rice over medium heat with the vegetables until it turns opaque, then add one 14.5-ounce can of diced tomatoes (this technically makes the dish Creole instead of Cajun but I like it this way), 2 1/2 cups of homemade chicken stock, a bay leaf, about a teaspoon of dried thyme, some salt, about 20 grinds of black pepper and about a 1/2 teaspoon each of white pepper and cayenne.
Bring this concoction to a boil, stir, and turn the heat down to very low and simmer for about 25 minutes, covered. For an even better flavor, add 1/2 pound of shelled, raw shrimp just before you cover the pot. Uncover, toss the jambalaya with a fork (it should be a little moist) and re-cover off the heat for another 10 minutes or so, then plate with a garnish of sliced green onion tops and enjoy. BTW, a great resource on Cajun and Creole cooking is here, at Chuck Taggart's
Gumbo Pages
.
Wine match: Something Rhone-ish. Syrah, grenache, mourvedre or, if you prefer, zinfandel. Or beer.