I'm not going to belabor this point because I've already made it, but with Thanksgiving approaching you're going to have a need for some stock for your stuffing/dressing and gravy. I urge you to make your own. It's easy and there are recipes all over the Interwebz, though I'm particularly fond of the ones on Emeril Lagasse's website.
If you choose to make some, get yourself some turkey parts, not just the neck and giblets that come with the turkey itself, though you can use those (minus the liver). I've been fortunate that one of our local supermarket chains has been carrying frozen necks for the last couple of years, but you can use necks, backs or whatever is cheap. Just follow
this recipe for brown chicken stock
and you're all set.
If you can't find cheap turkey parts, just use chicken. If you still don't want to make stock, Swanson's chicken broth - which a lot of people use - is an acceptable substitute, but I'd caution that it's very salty. Ditto Campbell's. Pacific makes and organic chicken broth that I've always thought tasted like the box it comes in, but your experience might be different. I also haven't tried the boxed version from Trader Joe's, but most of their products are pretty good, so I'd be interested in the experience of others.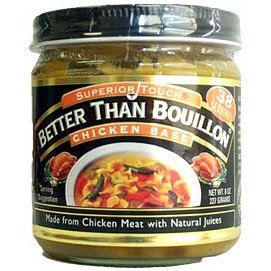 If you're still not up to making your own stock you can use this product, which is a home version of the stock bases that some restaurants use. It's not bad. The chicken is widely available and it also comes in turkey, but I've never seen it except on
their website
. Ditto the low-sodium and Kosher chicken varieties, but whatever you do, please don't use bouillon cubes. They're nasty. Really nasty.
Just say no to bouillon cubes!