I love chicken. I love vegetables. I love them together, but I never loved chicken cacciatore. For that matter, I never loved coq au vin, either. Why? The disgusting, rubbery mess that chicken skin turns into when you braise the pieces in liquid. Further, though I like white meat chicken, boneless-skinless breasts (which are one solution) are often like eating cotton. What to do?
I was vexed and set out some time ago to solve this problem. Surprisingly, it wasn't all that difficult and it makes for a nice presentation to boot. I just had to think outside the envelope a little and get away from the "traditional" recipes you can find all over the Interwebs.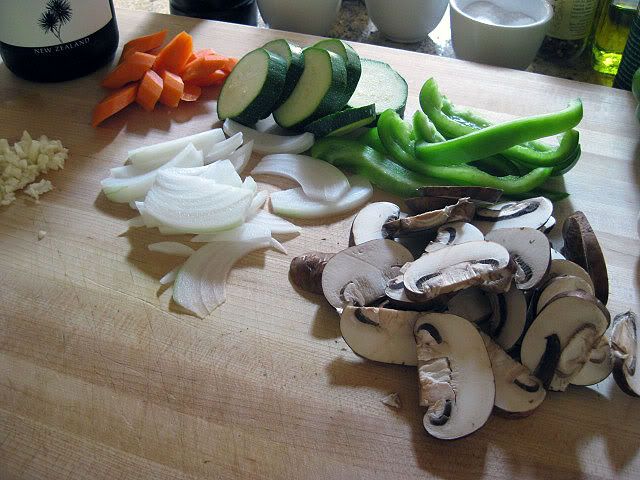 First, I borrowed some techniques from other dishes, the first being the ratatouille I posted about a while ago. Here's a shot of the vegetables all prepped and yes, that's a carrot you see. It adds a nice, earthy component to the dish. Bear in mind that what you see is for one serving, so don't fret that there don't appear to be many vegetables.
Once you have your vegetables prepped, the first step to get the chicken started. Choose nicely-sized bone-in, skin-on breast haves and season them with salt and pepper. Heat some olive oil over medium heat in an oven-proof skillet until shimmering, and brown the breasts skin side down until nicely colored. Turn them skin side up and put the skillet in the oven at 375 degrees until they're cooked through - about 25-30 minutes.
The second step is exactly like the ratatouille, and that's to separately lightly brown the zucchini, mushrooms and carrot and set them aside, then sweat the onions and peppers until soft and then stir in the garlic and allow it to become aromatic. If you don't like zucchini you can substitute (or add) yellow summer squash, and you can leave out the carrots, but the mushrooms have to stay or it's not "hunter's style". Add some diced canned tomatoes (about half a 14.5-ounce can for this one serving), return the other vegetables to the pan and cover. Simmer over low heat about 15 minutes. If you like, you can add a little white wine before adding the tomatoes and boil off the alcohol, but this isn't necessary.
In the meantime, bring a large pot of water to a boil and salt it liberally. It should almost taste like sea water. Cook a pasta shape of your choice (I like thin spaghetti or angel hair, but penne rigate or ziti would work) until done al dente, or "to the tooth". With all the other things in this dish, about 2 ounces per serving should be about right - half what you'd normally consider a serving of pasta.
A note on pasta: I'm a huge fan of Barilla pasta. It's inexpensive and almost impossible to overcook. I used to like DiCecco, but I've graduated to Barilla. Also, this dish is not the place for fresh pasta, which would be overpowered by the strong flavors.
When the chicken is done, remove it from the oven and allow to cool just a bit so you can handle it, and carefully remove the meat from the bones. Cut the breast into fat diagonal slices and serve it over the vegetables, which you've tossed with the cooked pasta. Shave some parmigiano reggiano over the top and you'll have something that looks like this.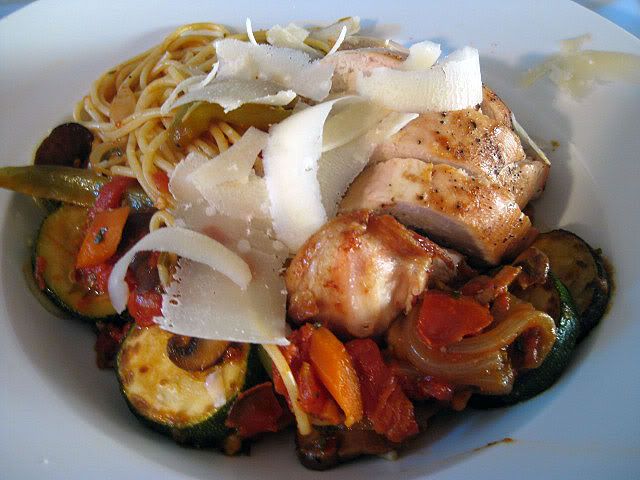 Wine match: As with any dish with tomatoes, you want something relatively high in acid. It's easy to pick something from Italy, but this is a blog dedicated to food and wine of the Northwest, so try a barbera from Oregon or Washington.
Mystic Wines
in Salem makes an excellent one, and there are several I've seen but haven't tried from the Columbia Gorge. Lower-alcohol zinfandel would be good, too, but they're harder to find these days. And, in the summer, the Shy Chenin syrah rose would be just the ticket.
Buon appetito!