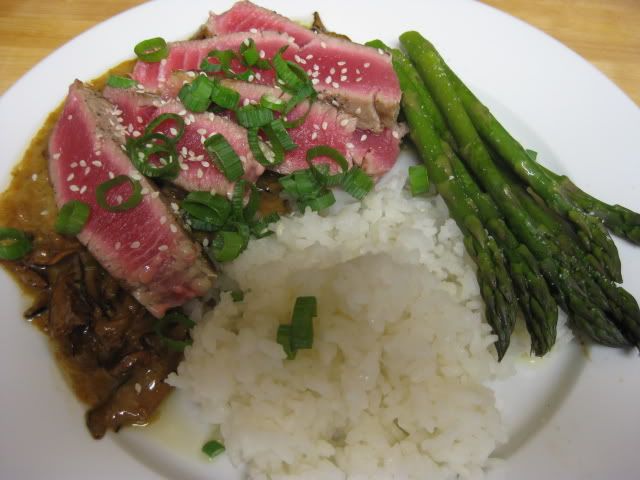 Perfect with the NV Brick House pinot noir.
For two servings:
12 ounces ahi
8 ounces (or more) wild mushrooms of your choice - I used shiitakes and chanterelles
1 Tbsp. grated ginger - a medium ribbon Microplane is magic here.
1 large minced clove of garlic
1 tsp. sesame oil
1-2 Tbsp. soy sauce
2-3 Tbsp. heavy cream
Butter
Sesame seeds
Scallion tops
Bear in mind - if you use more mushrooms because you like them, or because you're serving more than two people, you'll need to adjust the quantities of the other ingredients.
Saute the mushrooms in 2-3 tablespooons of butter over medium to medium-high heat depending upon the BTU output of your cooktop. Lower the heat and add the ginger and garlic and slowly saute until cooked through, about a minute. Add the soy sauce, sesame oil and a couple grinds of black pepper, but no salt. Simmer to blend the flavors and set aside.
Heat a cast iron skillet to almost smoking and sear the ahi that you've rubbed with a little olive oil and seasoned
lightly
with salt and pepper, about 30 seconds to a minute on either side. While it's searing, reheat the mushroom mixture and swirl in a couple tablespoons of butter off the heat to thicken it.
Slice the ahi and serve on a pool of mushroom butter, sprinkled with scallions and sesame seeds. Serve with your favorite green vegetable - I usually like green beans, snow peas or sugar snap (edible pod) peas, but I had the asparagus in the house and it was fine. I like to serve this dish with Calrose short-grain "sticky" rice. This just happened to be the Niko Niko brand from Sun Luck.
Thank you to Neil Stuart, former chef at San Diego's Cafe Pacifica, for inventing this dish and where this was the only thing I ever ordered. There's a more elaborate version of the recipe in Neil's book, Pacifica Blue Plates, which I believe is still in print and available from Amazon. It involves not only the ingredients above but a small amount of one of Neil's pantry staples, a teryaki sauce made from scratch. It has mostly the same ingredients in it so, since I don't make this very often, I just don't bother with making a batch of teryaki and keeping it around. This simplified recipe is close enough to the original that I'd be hard pressed to tell the difference.
Oh . . . this was frozen-at-sea ahi I bought for $6.99 per pound at a local Asian supermarket, Uwajimaya. It was fine. Unless you're having a really special occasion or showing off for guests, there's no need to spend $20 or more per pound for really high-grade ahi. On a Monday night the frozen stuff is perfectly acceptable and much easier on the wallet.